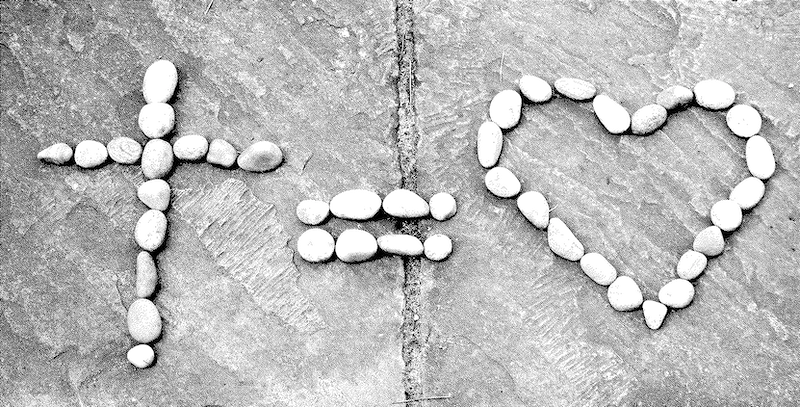 You shall love the Lord your God with all your heart and with all your soul and with all your mind. This is the great and first commandment. And a second is like it: You shall love your neighbor as yourself. On these two commandments depend all the Law and the Prophets.
These two commandments here are pretty interesting. I think it shows the two tendencies that most people generally fall into. Some people seem to want to focus on the Divine and coming to know God. Prayer, meditation, contemplation, deep thought — these are all favored activities. Others, like to dig into doing. Penance, acts of mercy, protest — these tasks make them happy and feel closer to godliness. Heady piety versus works — it is the age-old struggle.
Here at the end of Jesus' disputations with the Pharisees and Sadducees, Jesus is ready to put old arguments to rest and point his people towards the path that leads to God. Rabbinical teaching of Jesus' day taught that each of the various laws found in Torah were equal in God's eye. It was only silly humans who would dare to falsely prioritize them.1 The question of which law is the most important is — as seems to always be the case — intended as a trap for Jesus.
Jesus, rather than selecting a single law as the most important riffs on the Jewish creed, the Shema Yisrael of Deuteronomy 6, and points to it being the root and intent of all scripture. The love of God and love of neighbor — the law of love itself — are the core of God's revelation to humankind. Jesus says that the two laws are equally important. What does that mean?
Martin Luther preached about law and Gospel. Through the law we know that we are sinners and have fallen short of God's will for our lives and his Creation. Through the good news of the Gospel, we know that God the Son gave his life for our sins.
Heady piety and works together bring us closer to God. Through prayer, contemplation, and communal worship we learn more and more about who God is. And because we are made in his likeness and image, we learn more and more about humanity and the neighbors God has given us. Through penance and acts of mercy we see humanity with new eyes. We learn that many people aren't thankful when we help them. We learn that sometimes we don't really want to help someone else. We are sinners. They are sinners. But, through the work of the Holy Spirit, we can experience through our actions what love really means.
St. John says that, "love comes from God" and that, "God is love." Through piety and works we learn to love. Prayer and worship alone are not enough. Attending a single protest and putting twenty bucks into the collection plate are not enough. Our lives must be transformed. We must seek to mirror God's image in our words, deeds, and hearts.
God didn't make the Bible for himself; he made it for us. God loves us. Through the Bible we learn that the world isn't as it should be. Racism, sickness, war, death, pain, sadness — these things shouldn't exist. "But God shows his love for us in that while we were still sinners, Christ died for us."
Jesus will come again. He is making all things new. He is the Lord of whom David and the Prophets spoke about. He is the Christ and Messiah. In this great time of tumult and trouble, Jesus is the way, the truth, and the life.
In this time while we are apart from each other and so many that we love, I pray we can look to Jesus for our deliverance. If we look to him and him alone for salvation, he will save. If we look to him and allow him to inspect our hearts and guide us to his will, he will be our Lord. Jesus gives us neighbors and through his Sprit empowers us with the insight to love them well.
In St. Matthew's gospel, today's reading ends Jesus' disputations with the Pharisees and Sadducees. He claims himself the Son of David, turns to the crowds, and then makes his journey to the cross.
Today, I end my homily with the Litany of the Holy Name. Listen and reflect as I pray. May Jesus point our hearts to hope and healing. May Jesus show the people of Epiphany how he intends us to love God and our neighbor in the post-COVID world.
Let us pray:
---
New Interpreters Commentary: Matthew ↩︎